Knit Nights
 TKG hosts virtual Knit Nights, usually once a month.  Meetings are free for members and do not require pre-registration.  Knit Nights are moderated by members.
 TKG Knit Nights  are scheduled for  7pm to 8:30pm EST on the following dates in 2023-2024:
Wednesday, 11 October 2023
Tuesday, 7 November 2023
Monday, 4 December 2023
Thursday, 11 January 2024
Monday, 5 February 2024
Wednesday, 6 March 2024
Thursday, 11 April 2024
Tuesday, 7 May 2024
Members should log in to the  Membership Hub to access the Knit Night Zoom meeting link.
Monthly meetings are held on the third Wednesday of the month from September to June. Until further notice, TKG is hosting virtual meetings via ZOOM. Meetings are free for members — Find out about TKG MEMBERSHIP
October – Kate Atherley & Kim McBrien Evans
October 21, 2020 @ 7:30 pm

-

9:30 pm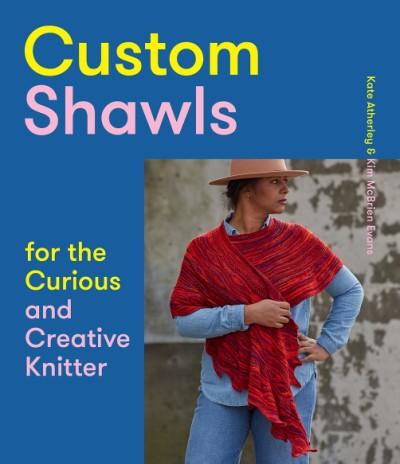 Speaker: Kim McBrien Evans & Kate Atherley
. . . . . . . . . . . . . . .
Registration required: Please register in advance for this webinar. This meeting is open to guests free of charge.
Once you have registered, you will receive the Zoom meeting link via email.
. . . . . . . . . . . . . . .
Join Kate Atherley and Kim McBrien Evans for a deep dive tour of their new book, Custom Shawls for the Curious and Creative Knitter. Kim and Kate will give an overview of the elements of the book, how they used these elements in building the beautiful shawl patterns in the book, and what's on their needles a year after writing it. Through learning about how both Kate and Kim approach shawl design, you'll get tips for creating your own amazing shawls through this book.
Kim's Bio:
Curiosity and exploration and an ever-expanding plan for world domination are the name of the game for knitwear designer and indie hand dyer, Kim McBrien Evans. A lifelong love of colour, texture, and pattern prompted Kim to transition from working artist to textile maven. Her knitwear designs are known for their ability to turn an abstract idea into a textile reality while simultaneously fitting and flattering every body. She lives and works in the woods of Central Ontario.
Kate's Bio:
Kate is Knitty.com's Managing Technical Editor, and a seasoned designer and teacher of all things knitterly.
Her latest book, The Knitter's Dictionary, is an easy-to-use and friendly guide to the language of knitting. A reference book and a guide to pattern reading all in one, it covers topics from Gauge to Yarn Barf. It received a starred review in Publisher's Weekly.
'Knit Mitts: Your Hand-y Guide to Knitting Mittens and Gloves', released in fall 2017, brings the same any-size-any-gauge approach as used in Custom Socks to hand coverings of all kinds. The first printing sold out in record time.
'Custom Socks: Knit to Fit Your Feet' was released summer 2015 by Interweave Press, to great acclaim. It takes a different approach than many sock books, teaching you how to measure your feet and providing numbers for working both toe-up and top down socks for 12 sizes and 9 gauges.
Her 'Pattern Writing for Knit Designers' book is the industry's first guide specifically written to help knit designers (and teachers) of all levels create easy-to-follow, high quality knitting patterns. It's been called a "game-changer" and a "must-have" by designers and magazine editors.
She's known for her attention to detail in her patterns and her classes, and she regularly teaches at stores and events across North America, including Interweave YarnFest and Vogue Knitting Live. Her work has appeared in many books and magazines.
Kate lives in Toronto with her husband and their adorable but sometimes challenging rescue dog Dexter.